It is crucial to verify the proper operation and function of completion tools before running them into a well bore. Product testing services are available to test tools in simulated downhole well conditions at OES testing facility.

OES utilizes two seperate test cells to test completion tools in order to qualify them and / or certify them for our customers. This page describes Test Cell #1 and all of its capabilities and specifications.



| | |
| --- | --- |
| Test Cell #1 - South View | Test Cell #1 - North View |


Heating System:

Natural Gas fired heating system

Uses Environmentally safe Paratherm NF heat transfer fluid

Maximum Temperature is 400°F (204°C)

Hot Oil Circulation System: eliminates hot spots and provides a uniform temperature distribution on test specimen.

Thermocouples (type "J"): measure temperature at bottom and top of test fixture
Pressure Console:
Provides air operated hydraulic pumps up to 22,500 psi (1,551 bar)
Valves, gauges, and hydraulic lines are rated to 20,000 psi (1,378 bar) working pressure
Three pressure lines are dedicated to controlling/simulating annulus above pressure, annulus below pressure, and tubing pressure
Two pressure lines control pressures above and below the Hydraulic Ram

Test Cell #1 - Pressure Console
Hydraulic Ram:

48" stroke (1.22m)

Push/Pull capability up to 500,000 lbs (230,000kg)

Rated for 400°F (204°C) and 20,000 psi (1,378 bar)

Pump thru capability

Fixture pressure isolated from ram pressure

To be operated in Test Cell #1 ONLY

USB Data Acquisition:

8 recording channels

Up to 14,400 samples per second, normally record 2 per second, or what the customer defines they want the data sample rate to be.


Data Acquisition Software interfaces with Microsoft Excel Software for data gathering and analysis

3 channels for thermocouples

5 channels for pressure transducers

Test Cell: (enclosed with large bay doors)

Overhead Crane: Load capacity- 3 tons (2,721 kg) / Hook clearance- 28 feet (8.53 m)
Casing: 20" (50.8 cm) diameter (X) 28' deep (8.53 m)
Oil Baths:




12" I.D.(30.48 cm) (X) 17' (5.18 m)

10" I.D. (25.4 cm) (X) 23' (7.01 m)

10" I.D. (25.4 cm) (X) 10' (3.04 m)

12" I.D. (30.48 cm) (X) 30" (76.2 cm)

15" I.D. (38.1 cm) (X) 20' (6.096 m)

23" I.D. (58.42 cm) (X) 5' (1.524 m)

Surface Safety Barriers:

42" diameter (106.6 cm) (X) 7' long (2.13 m) (X) 1" steel (2.54 cm) steel wall Hyperbaric Safety Shield

Ballistics Net with 1" diameter "mesh" (2.54 cm)

Test Cell #1 - Wellhead view of the 10' long bath
Hydraulic Press :

100 Ton (90,718 kg) Large Cylinder
10 Ton (9,071.5 kg) Small Cylinder
Stroke 6 " (15.2 cm)
10,000 psi (689 bar) Hydraulic Pump and Lines
10,000 psi (689 bar) Pressure Transducer and Pressure Gauge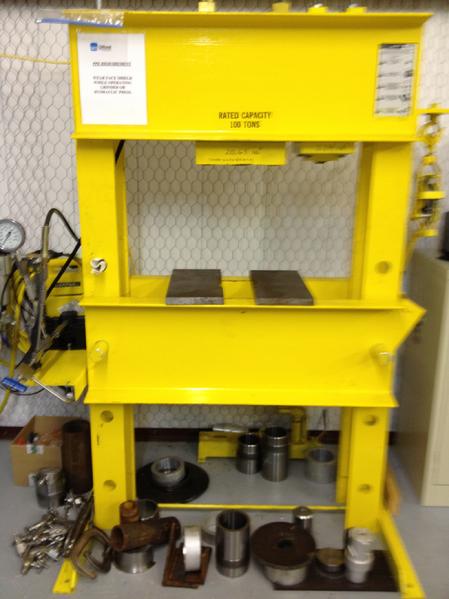 Hydraulic Press
Additional Pumps For Specialized Tests:

Nitrogen Pump: 22,500 psi (1,551 bar)
High Pressure Pump: 50,000 psi (3,447 bar)
Low pressure Pump: 5,700 psi (393 bar)

Air Compressor:

175 psi Maximum (12.06 bar)
50 CFM

Electric:

120 V Single Phase
240 V Three Phase

Miscellaneous:

Durometer Gage
Measuring Instruments
Pipe Wrenches, Strap Wrenches, Chain Wrenches, Etc.